WebHostingBuzz
WebHostingBuzz is a web hosting company that provides web hosting services and domain registration among other services.
Founded back 2002, WebHostingBuzz has been around to see the rise of the information age. Their story began as an effort to shakeup the web hosting industry, where large web hosting companies held the lion's share of the market. Between expensive prices and poor service quality, WebHostingBuzz decided ordinary customers like you and I deserved better.
17 years later, and they are still around. The question now is: did they stand against the test of time, and are they a company worth considering for your web hosting needs? Let's find out.
1. Consistent Pricing
Let's start this off with a bang – specifically what bang for your buck do you get by using WebHostingBuzz?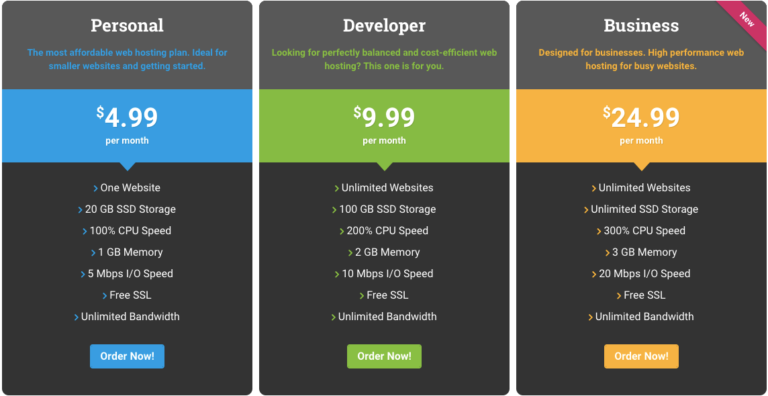 Off the bat you'll see that the cheapest plan they offer sits at $4.99 per month – that amounts to about RM20.68 per month. That isn't exactly the cheapest hosting services out there but here's the good part.
Taking on the annual payment gives you essentially give you 2 months of web hosting free for any of the packages that you choose from. For the first year, you'll basically be paying 10 months worth of service and getting a year of value.
But that's not all.
Unlike some other web hosting services where at the end of your contract you may be paying a higher rate than before, often double or even triple the previous plan pricing, WebHostingBuzz keeps your monthly fee the same. In fact, it's even stipulated in their billing FAQ that your monthly fee is effectively frozen at its existing rate.
This consistency in pricing means that even 3 or 5 years down the road, you'll still be paying the same amount. No need to worry about your web hosting cost suddenly doubling on you out of the blue.
2. Good Page Loading Times
Now that pricing is out of the way, let's see what kind of speeds you can expect to get with WebHostingBuzz.
Over the last 10 months WebHostingBuzz has boasted some incredible speeds – loading a page in as fast as 262ms!
In these months, the average loading speed comes out to be around an amazing 309.3ms! At these speeds, WebHostingBuzz comfortably avoids the problem of visitors leaving a website because of long load times.
While having 10 months is a decent sample size to measure load speeds, measuring over the last 2 years gives us an encouraging picture :
The average load speeds over the last 2 years turns out to be 411ms – faster than some of the better known web hosting companies like Bluehost and Hostgator.
So overall, their speeds seem to be standing up real good against the odds – maybe even justifies the price you pay!
3. Almost At Its Advertised Uptime
There's no point having lightning fast speeds if your website keeps going down right?
On their website, WebHostingBuzz advertises that it has a 99.9% uptime. However, the last 10 months shows a slightly different story.
In the 10 month from March 2019 to December 2019, WebHostingBuzz stood at a 99.92% uptime – a little behind it's advertised value, but otherwise not too bad.
If we look further back into the past, we'll see that it was doing marginally better – averaging 99.94% uptime over the last 2 years. While the earlier years have shown WebHostingBuzz struggling to keep it's uptime consistent, the more recent performance suggests that it's got things figured out. A welcome improvement to its service for sure.
4. A 45 Day Money-Back Guarantee
Unlike that standard 30 day money-back guarantees that most web hosting companies offer, WebHostingBuzz offers a more generous 45 days window of return. Specifically, for all shared, business, and reseller accounts. VPS accounts however, are eligible for a refund within 30 days of buying it – not as good as the rest, but falls in line with the industry standard.
One thing to note as well: other additional services, from dedicated servers to IP addresses, SSL certificates, and domain names aren't available for refunds.
5. Over 450 application and free website migration
WebHostingBuzz comes loaded with over 450 popular apps (like WordPress). Most can be installed within a couple of clicks. No need to break into cold sweat trying to figure out how to code or anything like that.
If you already have a website and you'd like to move over to WebHostingBuzz, their team will do it for free too!
6. Green Web Hosting!
While not necessarily a direct benefit to you or your website, WebHostingBuzz's commitment and has a sponsorship and partnership with The Woodland Trust.
Their goal is to offset the energy demand from hosting all their servers and keep them carbon neutral ground. A noble and admirable commitment to keep.
In a time where our planet is in danger of literally falling apart, any small part a company can do to reduce its impact is a positive in our books. Good on you WebHostingBuzz!
Unfortunately, not everything is going to be perfect with any web hosting service. Here's what we found out about WebHostingBuzz
1. Over-promised Customer Support

On their website they claim they have a support team that "never sleeps", providing you with 24/7/365 technical support. Reading that you'd think you could just drop them a message at any time and you'd get a prompt response right? Well, that wasn't the case.
Instead, while they have the typical knowledge base support ticket function, they don't have an phone or live chat support. When a question was raised, there was no response for over 6 hours before a customer service rep manage to give a reply.
Not exactly 24/7.
2. Strange Termination Clause
Normally, web hosting companies invite you to use their services with great fanfare and open arms. But when it comes to leaving them, you can often find it quite an ordeal to go through before they'll release you from their clutches.
In WebHostingBuzz's cases, they sported an unusual termination clause. Here's what it said:
"Notification of Your intent to terminate must be provided to WebHostingBuzz no earlier than 10 days prior to Your billing date but no later than three days prior to Your billing date."
What does this mean?
It means that if you desire to cancel your usage of their service, you can't do it more than 10 days before your billing date, nor can you cancel later than 3 days before the billing date.
This means you have a 7 day window to terminate your contract, otherwise you'll have to go through another billing cycle.
While this isn't a very anti-consumer clause, it is a strange one to have.
Hosting Plans, Pricing and Facts on WebHostingBuzz
Personal Web Hosting

Cost: RM20.68 per month (same renewal price)

Features:
• 1 website
• 20GB SSD disk space
• Unlimited bandwidth
• 1 GB Memory
Developer Web Hosting

Cost: RM41.38 (same renewal price)

Features:
• Unlimited websites
• 200GB SSD disk space
• Unlimited bandwidth
• 2 GB Memory
Business Web Hosting

Cost: RM103.52 per month (same renewal price)

Features:
• Unlimited Websites
• Unlimited SSD Storage
• Unlimited Bandwidth
• 3GB Memory
| | |
| --- | --- |
| Free Domain | No Free domain |
| Sign up | Easy signup process |
| Payment Methods | PayPal and Credit Card |
| Hidden Fees and Clauses | Odd termination clause, otherwise nothing of note. |
| Upsells | Slight Upsell |
| Activation of Account | Instant activation |
| Dashboard Experience and Control Panel | Cpanel available. |
| Apps and CMSs (WordPress, Joomla, etc) installation | Easy installation for popular CMSs and apps |
WebHostingBuzz, should you or should you not?
After looking through and reviewing all the elements that WebHostingBuzz has to offer, we'd say yes to trying out their services.
If anything, WebHostingBuzz's core strength lies in it's consistency – with pricing, speed, and uptime.
This means you're having your website on a stable platform that will deliver reliable results.
Though their customer support could use more work, we think it's worth a shot in trying them out.
Still Don't Know What You Want?
Tell us about your business and we'll match the best hosting to your website.
Talk To Us
Get in touch with us to help chart the best path forward for you.
Call/Whatsapp Us
Call to learn more about us, we are just a phone call away.
Mail Us
Drop us a message, we're always standing by and eager to help.
You might want to read this...